5 Tips for Finding a Wedding Photographer
I'm hoping to help give you a little insight on how to find a wedding photographer that truly gives a shit about you and your wedding day!
(Hi, my name is Wes, I enjoy non-derogatory sentence enhancers ?❤️)
You deserve someone who will not only take amazing photos of those special candid moments and create beautiful artwork for your home but they'll also actually care about you, your partner and your wedding day. Because wedding days are truly a once-in-a-lifetime event and it should be captured properly by a confident and skilled wedding photographer that you enjoy being around.
You've booked the venue and locked in the date and now you're trying to lock in that perfect wedding photographer before your wedding date is gone! Trust me, this can happen in a year in advance or more.

So maybe now you're thinking… "OK… Where do I start and what am I looking for? Where do I find them? What do I ask? Do I even need to hire a professional? WTF do I do here?"
Hopefully, I can make your search a little easier and help you with a few tips in finding the right wedding photographer for your kickass wedding. One that will give you the images and the experience that you deserve!
Most photographers are there to just take pictures, and there are a few that are there to capture beautiful candid moments and create stunning artwork, all while making sure your wedding day experience is the best it possibly can be.

1. What Style of Wedding Photography Do You Like?
The first thing when trying to find your wedding photos is what do you like? With wedding photos, there are plenty of wedding photography styles to choose from.
Light & Airy Wedding Photography
Photo-journalistic (Candid) Wedding Photography
Fine Art Wedding Photography
Creative Wedding Photography
etc.
There are a lot of styles out there that a photographer can tend to lean towards. You will know exactly what you want though the moment you see it even if you're not sure what to call that style.
At Westley Leon Studios we find ourselves photographing more towards the photojournalistic and candid moments while peppering in quick and fun photoshoots throughout the day for your wall art and albums. Most of our clients love and appreciate the candid images more than anything because it's real, fun and in the moment. Don't worry though, we still do those family photos if you'd like as well and can also help with posing as needed. I want you to enjoy your day and live in those genuine, meaningful moments. And if you'd like we can create some kickass artwork for you to enjoy for a lifetime too.

Figuring Out What You like with Pinterest and Mood Boards
A good place to start trying to find the style you want would be Pinterest! If you don't have a Pinterest account, it's really quick and easy to signup for one. If you already have an idea of the style of imagery you like. This is an optional step but if you're completely unsure though, it might be a great starting place.

The Mood Board is a great tool as it will help you find out exactly what kind of images you like so that you will know what to look for when you're hunting for your photographer. It's not at all a "these are the images I have to have" but rather just a way for you to find out what you like and what's out there.
As you're pinning your favorite wedding-related images, be sure to comment on it and simply express what you loved about it. Was it the lighting? Their expression? Pose? Creative elements? Candidness? Editing process? Etc. It doesn't have to belong but just more of what initially drew you to that image and why did you Pin it? All you do is pin what brings you joy, simple. ?

After you've been pinning for a while (up to you how long) just kind of step back for a few and then come back take a look at all of your images as a whole. Do you like more moody images? Brighter images (light and airy)? Fun emotion? More intimate? Creative artwork? A mixture of things? This will help you understand what kind of images you two as a couple love to look at and then what kind of images you're more drawn towards.
Just remember that these images are for inspiration, not duplication and not a shot list. The Mood Board is to help you know what kind of images you like so that when you Google – wedding photographer near me – you'll have a better idea of what you're looking for. Every wedding day is different and being able to take the exact image is almost impossible anyways. It can also diminish your own wedding day by filling it with pre-fabricated moments or ideas. A great photographer will become inspired by you two as they're capturing your wedding day.

Learn more about Moodboards from our article here.
Now that you have your Mood Board and know what kind of style and feel of images you'd like to have, it's time to find that perfect photographer for you!

2. How to Find Your Wedding Photographer
When doing your research, really take in not just their artwork but the vibe of everything they put in front of you. How does their website make you feel? Check their "About Me" page, social media pages and Stories. Who are they? How do they as a person make you feel? Does the thought of spending your wedding day and having it captured by this person bring you joy? If yes, awesome! Contact them! … If not, trust yourself with that feeling and keep searching. This is both of your wedding day, don't settle and be happy with your choices. <3
There are several possible ways to find your photographer, here are a few different ways most people find me.
Word of Mouth
Like most people who have questions, we might take to social media and ask our friends. Do you have any friends near you that recently got married? How did their images turn out? Message them and ask who their photographer was. Did you perhaps see their wedding photographer in action? Ask around and see how their experiences were with that photographer. Before, during and after the wedding.
Fair warning – If you post online like such as Facebook, be prepared to get a lot of recommendations (especially in groups) with the skill levels varying wildly. It can often be a LITTLE overwhelming with how many people are being tagged and hugely underwhelming with all the inexperienced photographers trying to slide into your DMs.
Search Engines
Google is going to be a GREAT asset for you here. Be sure to search for things like "wedding photographers near me", more specific if needed like "south bend wedding photographer". Location-based searches work well too like if you go to a University even something like "Notre Dame wedding photographer". Just be sure to search for your local area and go through those wedding photographer websites. Remember, you'll want to like the work and the photographer so inspect it all. Reviews, about pages, pricing, etc.
Sites like Wedding Wire, The Knot, can be some decent platforms for you to search for your wedding photographer. Make sure to search more locally first as you wouldn't want to love someone's work 10+ hours away from you.
Bridal Shows
These are amazing to visit and do not rule them out! There are plenty of bridal shows in the South Bend Indiana, Notre Dame Indiana as well as out towards Valparaiso Indiana, Indianapolis, New Buffalo Michigan, Fort Wayne Indiana and Chicago Illinois. Bridal shows can be found all over Michiana so don't be afraid to search for a few and attend.

These can sometimes have a small entrance fee but it's totally worth it as you're able to visit a TON of vendors and meet them face-to-face, even if for only a bit. You'll know instantly if you like their work and if you "click". Plus there's taste testings, drinks, prizes, and swag. SCORE!
Once you've gotten a few reputable names, check their websites, reviews and social accounts, time to reach out.
3. Information to Give Wedding Photographers
So you found a few photographers that you enjoy their work, you feel a positive vibe and think you might want to book one of them, what's next? On their website, they should have a contact form or at least an email. If you want to though, text or call is great too, it's really up to you.
What info to give when contacting a wedding photographer
When you're contacting these photographers, make sure to give them the information they need but also want. Your wedding date, venue location(s) & time(s), contact info (name, email, phone, best time to contact and preferred method) any special plans during the wedding day, a little about you two as a couple, how you met, what you like about the photographer or their work, etc. Both wedding day details and fun personal info is always great to know. If you're messaging a few photographers, copy & paste never hurt anyone, lol.
An experienced and involved photographer truly wants to know these things (I know I like to). Not only does it help both parties to get to know each other (since you potentially read their "About Me") but it gives us wedding photographers a lot of great insight about your wedding day details and about you two as a couple. Personal bits like that can even help us plan your engagement session and tailor it to you two. Being better connected just allowed us to capture even better and more impactful photos.
4. What to Ask a Wedding Photographer
How Experienced Are They?
One thing you can ask your potential wedding photographer is how many weddings they have been the lead photographer on (not just second shot or attended). How long have they been shooting? What all genres do they photograph? Are weddings their niche or dominate photography genre they practice? Full-time or part-time?
A master of one is usually better than a jack-of-all-trades.
What If … [insert worrisome question here]?
Sometimes it's hard to know what might even happen on a wedding day. What happens if the photographer is sick? Do have they backup camera gear? Are they insured? Is there a contract to safeguard everyone?
You really want to make sure you're covered if anything was to happen by chance. A professional photographer should have a backup plan, gear and an outlined planned in the contract. If there's no contract, think about walking away.
5. Meeting Your Wedding Photographer Should be Like Making a New Friend!
With a decision as big as this, images alone are not always enough to book them. I urge you to set up an interview with them to see what kind of person they might be. How well do you all mesh together? Could you hang out with them for an entire day? (12 hours?)
Whether you want to meet in person at their studio, a nice restaurant (tacos and drinks perhaps?) or even over FaceTime, be sure to set up an interview. Meet them when and where makes you feel most comfortable. It's great if both you and your partner can go to the meeting, that way everyone is involved and acquainted. 
If the potential wedding photographer cannot make time for you, take that as a sign to find someone else. Always trust your instinct. If they're dodging you left and right to never actually meet up… Tell them "Bye!".

Why Should We and the Photographer Have to Mesh? Who Cares?
Your photographer is typically with you for most of the entire wedding day. A bad interaction with your photographer on a wedding day can attach those feelings to your images and a bad experience can easily turn those images into a tarnished memory.
No matter how great the photo is, you may not love it as you deserve to if your photographer left an upsetting memory with you on your wedding day. Wouldn't you rather spend one of the happiest and impactful days of your life surrounded by people you'd enjoy being around and trust?
No one wants to spend their day with a prick. ?‍♂️ ?
Your wedding photographer should feel more like a friend than a vendor. They're a very important asset to your wedding day as they're one of the few vendors that really spend the most time with you during the biggest moments of the day. When the day is over and it's twenty years later you'll be glad you chose the right photographer for you.
A photographer's job is more than JUST taking photos. Don't get me wrong, it's a HUGE part of our careers of course but there are other aspects we should be involved in. Like, help to guide you through the wedding day process all while capturing images you'll love and giving you an experience you'll never forget or stop smiling about.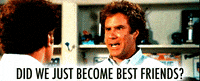 My mission as a wedding photographer is to make sure you have an out-freaking-standing wedding day experience with a side of forever-lasting-awesomely-epic images. ❤️
Here's to you two in hopes that you find the perfect wedding photographer near you and that you have one kickass and beautiful wedding day! <3